Ornate Burrowing Frog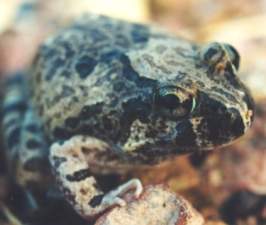 Photo: Courtesy of Damon Ramsey
BSc.(Zool) Biologist Guide

Ornate Burrowing Frog: Limnodynastes ornatus
A small, round frog.

The eyes are golden and seem relatively large and round.

The frog is usually a sandy brown, but the markings can vary.

However, the legs usually have rounded stripes that are a darker brown than the background skin.
Call:
Size:
The average adult length of the Ornate Burrowing frog is 45 millimetres.
Distribution:
Found throughout the top end, and down the east coast to Sydney.

This species is well­adapted to burrowing when there is little water, and is often found far from the coast and in arid environments.
Habitat:
Found in wide range of habitats from coastal rain and wet sclerophyll forest to dry woodlands of the interior.

A burrowing species, it is usually found active after rain, or on warm, humid nights.
Script c
ourtesy of Naturalist Guide Damon Ramsey

Additional Ornate Burrowing frog photos