Return to Rainforest Plants\Trees

Leichhardt Tree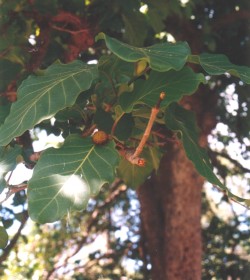 'Leichhardt Tree' or 'Cheesewood': Nauclea orientalis
This tree is of course not related to the conifers but is a flowering plant.

It's quite often a large tree found in the eastern and northern woodlands of Australia.

It stands out as much darker than its surrounding plants.

It is also found in the adjacent tropical rainforests in north-eastern Australia, and in the drier tropical woodlands it is usually found along the watercourses. It distribution also takes it to and through tropical Asia (Cooper and Cooper 1994).

The leaves are large and dark glossy green with prominent yellow venation. These are often dropped in the drier season (Cooper and Cooper 1994).

The flowers are small with orange-yellow petals and protruding white stamens, and stick out collectively from a central point, giving the inflorescence the look of small spiky balls.

It slowly produces a round squishy yellow blob that is actually a collection of small fruits that have followed the many small flowers. The globular fruit is about the size of a golf ball and is edible.
Script: Courtesy of Damon Ramsey BSc.(Zool) Biologist Guide
Leichhardt Tree: Nauclea orientalis
The tree produces the lightly perfumed, unusual flowers throughout spring and summer.

Though edible, the fruit is said to be very bitter, although it is popular with birds and flying foxes.

This tree prefers wet areas and is particularly common in lowland rainforests, close to streams, where it can grow 20m in height.

Traditionally, the trunks make good canoes and the leaves and bark produce a poison which can be put into water to stun fish.

The bark is also the source of a bright yellow dye.
Script: Courtesy of of Environmental Protection Agency