Return to Rainforest Canopy
OR


Paperbark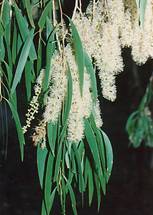 The Paperbarks, Melaleuca spp., are one of the most distinctive Australian plants, usually well known both to residents and many visitors alike.

They are also known as 'honey myrtles' as many species produce copious amounts of nectar, and as 'Tea-trees', although this name is more commonly used for the other Myrtaceae genus Leptospermum.

Melaleucas are also often mistaken at first glance for Eucalyptus trees. They are in a separate genus, but in the same family, and many of the species share the familiar pendulous branches and drooping leaves.

Other common family features are the aromatic, oil gland filled leaves and the flowers dominated by many colourful stamens (above right). And, as is obvious from the main common name, many species have peeling, papery bark (above left).

In this genus, the stamens are united into bundles, of which there are five in every individual flower (Holliday 1989).

There are at least 200 different species of Melaleuca. Most of these are found in Australia, but there are a few extending up into tropical Asia and several can be seen in the Daintree region. In fact, in some of the areas around the Daintree coastal floodplains, they constitute their very own ecosystems of 'Paperbark Swamps'.

Paperbarks have several different uses for humans. The peeling bark was not used as paper, but it was used as a material in which the Australian Aboriginals would cook. In modern times, the famous 'tea-tree' oil is in fact derived from a Melaleuca. It's anti-bacterial qualities derive from terpenic-type oils in the species Melaleuca alternifolia.