Pink Evodia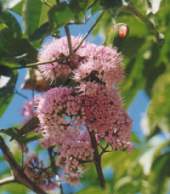 Pink Evodia, Melicope elleryana
This attractive plant is usually a bush or a small tree that often develops soft and crumbly corky bark and has a semen-like smell when cut.

It grows tri-folate leaves and beautiful pink flowers that erupt along the branches that attract butterflies and birds (pictured).

These are followed by small, hard capsules with black seeds.

The plant is commonly planted along road sides and in car park areas in the coastal lowlands, for both its pretty flowers and the fact that the leaves are the food for the spectacular Ulysses Butterfly.