Supple Jack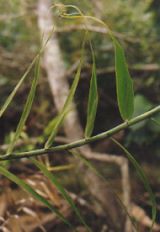 SuppleJack, Flagellaria indica
Also called 'Whip Vine', this is a fast and vigorous climber with a round, cane-like stem and long leaves.

The long leaves are unusual as their tips have been modified into tendrils to enable the plant to curl its way through the canopy.

It is found in mangroves and forests in eastern and the wetter tropical areas of the old world tropics, and is common in places such as along the Marrdja boardwalk.